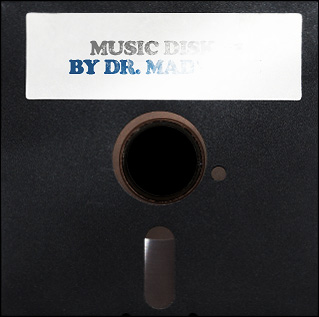 The musical efforts of many, from enthusiastic amateurs to professionals, throughout the history of computers have been gathered and archived by dedicated teams. Some of these are ongoing projects, as even today there's new music being made for even the rarest platforms. Here's a list of resources.



CPC Museum
Three small Music packs from the Amstrad CPC. It seems to be quite rare.
Project AY
Music made with the AY chip, for the ZX Spectrum and Amstrad CPC.

UnExoticA
A collection of music ripped from Amiga demos and games.
SOAMC=
The Amiga Mods equivalent of the later mentioned SOASC=. A huge MP3 archive with over 231804 files.

ASMA
The archive for Atari XL/XE music. Their collection includes over 2500 music files and it seems their archive will grow in the future.
SNDH Collection
The collection for Atari ST music.

HVSC
The archive for all your Commodore 64 music. This is possibly the most complete archive available yet. Features over 36.000 SID files. From game music with their sound FX from the 80ties to contemporary SID releases, you can find it all there. Updated a few times a year.
SOASC=
An insanely ambitious project, two guys have converted the entire HVSC to MP3's. The songs are available in various renditions, using different versions of the SID chip.

Game Boy Music @ HCS
Over 900 songs from both games and demos.

Kaminarimon HES Music Archive
HES is a format devised from the TurboGrafx-16 / PC engine console in 1999 by Takashi Mamiya.

This is an exceptional entry here. "Hoot" is an emulator, supporting different platforms and chips. Support for chips like NEC's PC-88 / PC-98 and Sharp's X1 / X68000, along with various arcade systems.
Hoot @ Snes Music
Over 2400 game soundtracks by over 800 game companies.
Hoot@HCS
An update of the above mentioned Hoot @ Snes Music. Music from 300 games plus 1100 arcade systems.

MSX Resource Centre
A big site about the MSX and its productions. Features a big archive on music, even in MP3 format.
KSS Kingdom
Over 3100 songs in their archive. Unfortunately this site hasn't been updated in quite a long time.
KSS @ HCS
The MSX (and MSX2) archive of HSC.

2A03
The NES music archive. Features over 1200 songs from different artists.

SMS Power
An archive of video game music done for different Sega systems.
KSS @ HCS
Beside the MSX songs they host different songs from Sega platforms here too.
Project 2612
The Sega Genesis and Megadrive music archive.

Z80 chip Music Site
A nice list with MP3 files from the ZX 48k.
ZX Tunes
The largest ZX music collection around, according to the tagline. Great content, from short musician profiles to podcasts among other things.
ZX Demo
A portal for the ZX Spectrum demoscene. It has a large archive of demoscene music made for the ZX Spectrum. Features profiles, events and productions.
Project AY
Music made with the AY chip. For the ZX Spectrum and Armstrad CPC.
Bulba's archive
Over 20000 (!) ZX Spectrum songs mostly made in eastern Europe.

Wonderswan @ HCS
Wonderswan was a Japanese console made in 1999, as a competitor for the Game Boy. It never made much competition however.

Modland
A wonderful wiki based site with a lot of content. The name might be a bit confusing, there're many different formats next to the Mod. A must-check.
Chiptune.com
A nice collection by REZ. A selection of various music from different platforms. FTP archive here.
Chiptune upload server
A free upload service for chiptunes. Covering many different formats for different soundchips.
Micromusic
A chiptune community without a strict focus on particular sound chips or platforms. The site contains a huge, still growing, archive.
8bit Collective
An active chiptune community with a lot of downloads, and a variety of artists in choice of chips and platforms.
Video Game Music @ HCS
Video game music from various platforms, it includes music from the NES and Game Boy among others.
Beware of exotic file formats. On every website there'll be links to players if neccesary. Feel free to point out other 8bit music archives in the comments, i will add some to the list.
__
Thanks to Zabutom and the helpful comments below.
__
Update [10.05.2009]: There's been quite some discussion on what would be 8bit music and what not. Both Atari ST and Amiga have 8bit music chips, where the machines are technically 16bit. Therefore i've added both to the list. Feel free to express your view on this in the comments.
Update [13.05.2009]: Huge update! I've deleted the Zophar link (too oudated), added different platform with their archives. Massive thanks to Knurek for his input!