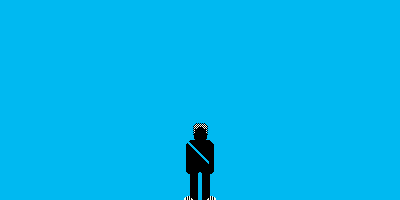 Richard Alexander Caraballo aka Minusbaby is a musician, designer and photographer from New York City. Maybe best known for his work and membership of 8bitpeoples, he's one of the driving forces in the US chipmusic scene. Like he did a great show at the recently held Blip Festival, next to helping out with the organization.
Besides his music and performances, he is responsible for a lot of great design and illustrations you've not unlikely seen before. His illustrations could be described as clean and very graphical, often loaded with a smart idea. Combined with his love for patterns, crisp pixels and colours, Minusbaby has developed his own characteristic visual language. Instead of blending into more common pixel trends, he brings his own style.
Pulsewave is one of the initiatives he supports with flyers, a monthly event held in The Tank, NYC, and after having seen a couple of month's flyer editions, it was about time to show a small series of Minusbaby's work.
Note: Click on the thumbnails, to see the artwork in full glory.
A small selection of his other artwork.
Next to these designs he directed this promotion video for Blip Festival. Animated and illustrated by Stieg Retlin aka Plasticflesh.
Minusbaby was so kind to share us some insights.

[8bit today] How did you grow into working with 8bit? Could you tell us more about the process of involvement?

[Minusbaby] "In 1987, my older brother bought a fancy Commodore 64 workstation; the computer, a monitor, floppy drive, printer plotter, software pack, controllers and a table to put it on. It was a really big deal because that sort of thing was rare in the projects. I grew up in Lillian Wald Houses – public housing on the Lower East Side of Manhattan, New York City.
I paid attention. He showed me some games. Rambo, Montezuma's Revenge and Dino Eggs became my favorites. But there was one piece of software that I really enjoyed — I forget its name now. Cracked by the Chinese Cracking Service, it was for creating animations. I remember that my first ever piece of pixel art was made in that program. It was of a dog pissing on a fire hydrant. It's true. I've always been classy. From there I went on to make talking bears, hands crippled and shaken by arthritis and bouncing breasts. I think the animations were limited to three frames. I was twelve years old. I ended up temporarily forgetting all of that stuff because I was running around my neighborhood drawing all over the bridges, elevators, stairwells and sidewalks with fat markers and paint between trying for high scores in "Frantic Freddy".
In 1995, after dropping out of high school twice out of boredom and eventually graduating from an alternative program and then decidedly not attending the diploma ceremony, I ended up a student at the Cooper Union in New York City. I applied because it was free as was the application process because the guidance counselor at my high school liked me so I was given three fee waivers allowing me to apply to three colleges instead of two. I concentrated in drawing and sculpture for the first three months of the second year until I dropped out.
In 1999, I got my hands on a laptop. I found a cracked copy of Photoshop 5. Because I didn't have a camera nor scanner then, I ended up using the program in the same way I used the C64 animator — I limited myself to using the pencil, line, paint bucket and eraser tools. I did this on the hush hush because I figured people might consider my style an exercise in futility; especially because during that era of web design most things were all exploded and extracted, three-dimensional angles and wireframes beneath miles of large and tiny type and high-tech in a mitochondrial sort of way. I did that stuff, too.
In 2001, Jeremiah Johnson (Nullsleep) and I met and from there I concentrated more on my pixel stuff because all of a sudden there was a need for it. I'm not going to say, "and the rest was history," because that would be pretentious. I still make my own coffee."

[8bit today] Instead of being restricted by limitations, you give the 8bit touch to it by mind. Could you tell more about your process of working?

[Minusbaby] "Because I come from a sort of mixed media background on a several fronts (dependent on what was around and what I could afford) – computer, spray paint, lead, carbon, oil pastels, fake gold leaf, smoke, fire, ink and anything else – I felt that there was no reason for me to stick to traditional pixel art techniques. While I do follow a set of rules based on grids, aspect ratios and aliasing, everything else is fair game. For example, a Commodore 64's palette is limited to sixteen colors. A few months ago, I made a Pulsewave flier using its palette along with darker versions of the original sixteen colors. While some purists have a tough time giving me respect, my color choices and disregard of the screen resolutions of the original consoles and computers set a personal precedent allowing me to do whatever I want, therefore avoiding boredom and inspiring growth. I am done being bothered by conservative crews who can't cope. Besides, it's fun to be naughty and break rules.
YY-CHR, a little program for creating NES sprites, has become a recent favorite. Timanthes by Focus is another handy tool similar to YY-CHR instead with file output for the Commodore 64. But I usually use Photoshop to make my pixel art because it's efficient when I have a ton of illustration gigs to complete. I'm the same way while making music. When I have a bit of downtime and a specific process in mind, I use a tracker. When I have 12,000 miles of ideas to realize and produce, I use software. I've a new interest in using x|k 's MIDNES triggered by software and a Roland TR-505 for basslines and percussion. That would be a funky sweet spot between hardware and software. Above all, efficiency and sincerity in practice rather than transparent conservatism is what motivates my work. Oh, and making it nice. That's the passion behind it all.
I've just mentioned this, but I think it's important for me to point out that I approach my music and design in similar ways. I do not translate my subjects and concepts into pixelated, 8-bit versions of the initial idea. Instead, I aim to communicate directly and with squares – square pixels and square waves (although triangular waves are my favorite). I guess it's a practice in primitivism, but mostly a stab at trying to continue several traditions at once. If I must choose, I'd say Mark Rothko, tiles in Portugal, Ndebele homes, airports, the Bauhaus, semiotics, Charles and Ray Eames' output, caipirinhas, dominoes, silhouettes (especially those of women), language inflections, birds and their calls, Charlie Ahearn's Wild Style, fetishism (particularly that of Santería and Candomblé), Saul Bass' movie posters, American Bison, the Sun, Paul Rand 's logos, zoos, Herb Lubalin 's typography, the romanticization of Latin traditions and routines, László Moholy–Nagy 's paintings and alphabets are some of the most dominant signifiers in my work. There are many other reasons for my æsthetic choices, but I'll have to save those explanations for another time or else these paragraphs will end up too much for one book."

[8bit today] Coming from a broader creative background, what role would you see for 8bit in your artistic career for the future? Are there any big plans?

[Minusbaby] "Besides working to improve my skills as a pixel artist, I want to take on commissions that allow me to move my pixel art from flat screens and paper into the round. I've always has a passion for sculpture. I worked as an art restorator's assistant for several years; repairing stone and metal sculptures, fireplaces and objets d'art. I want to cover the usual areas of solid things: toys, clothing, site-specific installations, furniture, video and print installations using entire rooms and expand my materials to include fabric, wood, metal, light and more of the planet without leaving a mess. I've an interest in easing into video performance, too. It would be nice to be able to have control over the visual portion of my live gigs because I don't dance around like a maniac; not yet, anyway. I'd rather have people look at pretty pictures instead of me.
I have a project underway that will, I guess, set me up for my video aspirations. I am curating the first Pulsewave of 2009. Jean Y. Kim, Paris Treantafeles – two friends talented and brilliant on several levels – are collaborating with me on the video portion of that show. It's going to be a combination of epic poem, screenplay, low-bit, digital projection and shadow puppets. Guided by the general direction of each act's style, timbre, texture and instrumentation, we will provide visuals that tell the story of a boy's adventure from morning into the night.
On the purely musical side of things, I'm two-thirds into writing the follow-up to my recent EP, Saudade for Beginners. It will be the second part of a four-release series. For live shows, I've been arranging older tunes and preparing new ones for an on-going series of performances that will feature fancy musicians on fancy instruments. My next big gig will be in April for 8static, a monthly chip music series in Philadelphia. I'm certain Angélica Negrón and José Olivares of Balún will join me on accordion and melodica, Carl Peczynski aka Oxygen Star will be on drums and the rest is still being planned. I'm thinking a full-blown, Brazilian percussion section and if I'm lucky, DJ Big Wiz will be available.
I read Ray Charles' autobiography last year. A few lines resonated strongly. I don't remember the exact words, but he said that he preferred to make a crowd dance as a result of the music making them happy rather than nervous. I like that a lot. I want to do that with my music, design and photography. I want people to feel good and dance.
The rest… I'll be playing that by eye and ear. "
You can view the activities of Minusbaby on his website, see his 8bitpeoples' profile here.